Our
WY

is to
help create your

HOW
WY Consulting Group was founded on the absolute importance of communication and its role in developing strong brands, marketing strategies and leaders. Through our work in marketing and communications it became apparent that not only did teams need support with their marketing strategies, but that in order to deliver effectively on these strategies, internal communication and leadership skills were the #1 factor of success. Our industry experience and knowledge will open the right doors to your next success.  Whether it's finding the best resources or restructuring the organization, our team is here to fill in the gaps.
Nadeen Borg
Founder, Communications Strategist
The company was founded by Nadeen who believes in taking a holistic approach to reaching business objectives builds strong brands and long-term results. The majority of her career has been spent fulfilling a business development function for emerging brands and hospitality concepts. Inspired by the needs of SMBs, her personalized approach to provide transformational solutions blends marketing, sales, and operational divisions that aim to unify the complexities that surround your business and unique industry requirements. She fulfils a Marketing Director On-Demand function for companies that require complete strategy development, or adds as an extension to teams who require focused attention on certain projects and consults teams to reach desired results. She has worked with brands across North America, Australia and the United Kingdom with an array of hospitality concepts, SaaS providers, and lifestyle brands.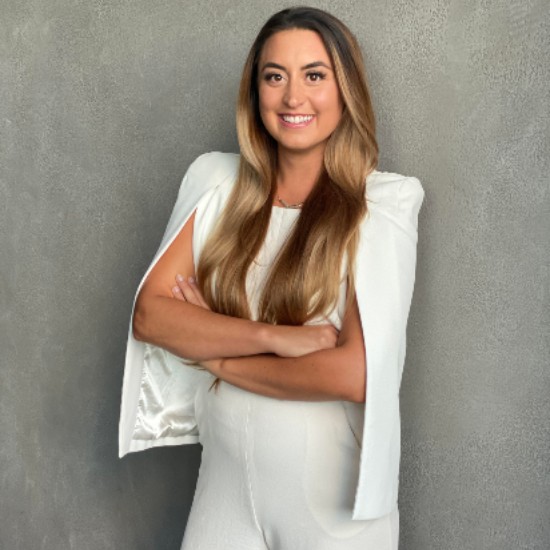 Katrina DeAngelis
Co-Founder, Head of Leadership Development
Katrina is an Employee Engagement and Corporate Culture Fanatic and she believes that a company's success is directly related to the employee culture that it cultivates. Katrina is passionate about driving organizational results through fostering employee and team potential, building courageous leaders. Throughout her work experience, she has seen that this not only increases employee engagement, psychological safety and overall happiness but directly corresponds to a business's overall success. Katrina spends her time coaching leaders and designing thoughtful content for companies looking to improve their employee experience. You can find her travelling the world, mixing up essential oil blends or seeking out new opportunities to learn and grow. Maximizing employee potential begins with individual wellness. By fostering safety in teams, giving employees the tools to have difficult conversations and supporting resilience, you increase levels of engagement and the overall happiness of employees. Katrina has always had a natural ability to harmonize every situation and decided to develop this passion into a career. Katrina practices and advocates the importance of mindset, communication and curiosity which she infuses into both her own life and her work.
Christina Amp
Head of Development
Christina's background as a graduate of both Marketing & Communications and Front-end Development programs has enabled her to deliver a unique and 360 service to her clients. Christina has expertise in both areas and optimizes the two to deliver specialized business strategies to her clients in order to take their business to next level. Christina has an international scope and she is aware of the unique professional landscapes that exist worldwide and she draws on this knowledge to further enhance her client's business development. She enjoys collaborating with clients to bring their vision to life by drawing on her experience in marketing, front end development and UI. She also volunteers and believes in empowering other female entrepreneurs much like herself to elevate their career.